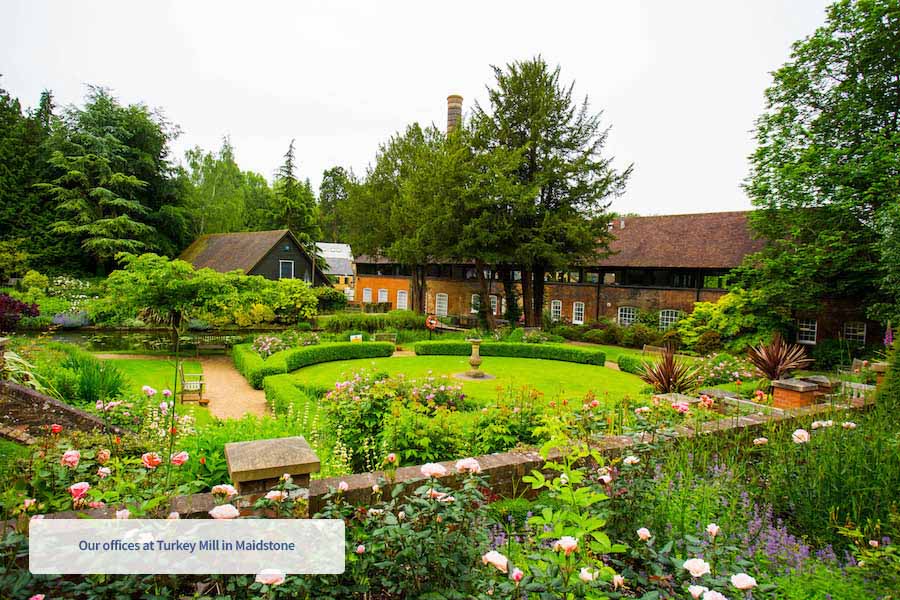 As soon as our Maidstone town centre landlords told us that the building was to become apartments, we knew we wanted to move into a new sustainable space with scope for growth, and a work-life balance for post-pandemic commerce. Fortunately, fifteen minutes' walk east sat a green and eco-friendly space that instantly took our eye. Once the country's largest paper making site, Turkey Mill was famous for its woven paper used by J M W Turner, the brilliant landscape artist. Today, the mill is an oasis of calm, surrounded by trees, lakes, the river Len and opening onto Mote Park, Maidstone's 450-acre Green Flag park.
Luckily, we acted fast enough to secure the mill's former drying room, giving us 25% more space. We are delighted with our new workplace, and we retain access to public transport despite being out-of-town. We believe our new environment will improve productivity, enhance our recruitment process, and optimise your service delivery. Should you wish to visit us at the mill, please let us know; you will be most welcome.
Staying on the subject of workplaces, we are seeking to double the space available for our Glasgow contact centre and will notify you once completed.
Finally, we have completed our management buyout, speeding up our decision-making process, responding faster on developments like Your Debts Online, and focusing on initiatives to improve our service offering for you constantly.
For your records, our new registered and trading address is:
The Drying Loft
25/26 Turkey Court
Turkey Mill Business Park
Ashford Road
Maidstone
Kent ME14 5PP